This week we released some exciting changes to the Blissbook platform. Although many of the changes are under the surface, there are a couple of new features that you can take advantage of right now.
Documentation Center
The main update is the conversion of the Dashboard page to the Document Center. The Documentation Center puts all the documentation you would ever need for an employee in one place, easily accessible and printable with just a couple clicks.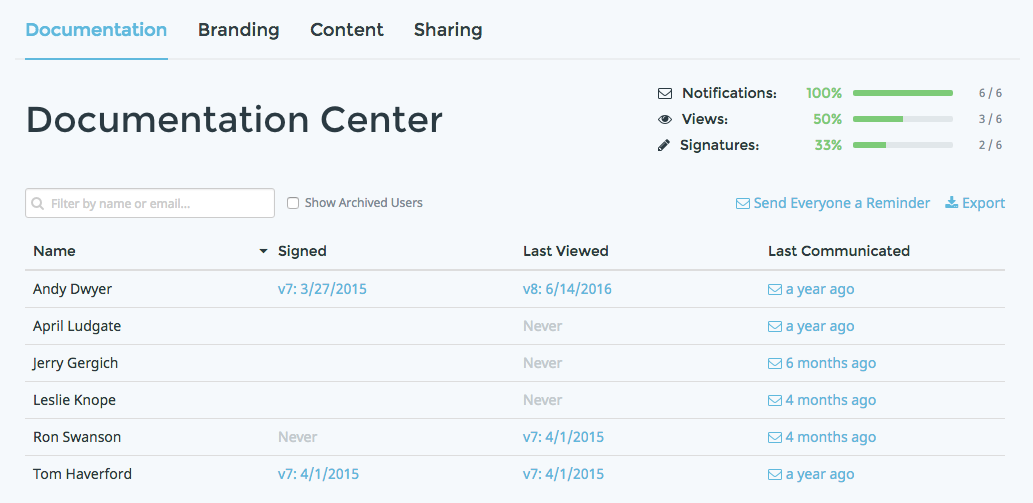 You'll notice a new column: Communications! Blissbook now keeps track of all the communications you've sent to your users.
You can click any of the dates within these columns to see a detailed report for any user. You can even print that report to a PDF.
Users Tracked By ID
In order to implement this change, we changed the way Blissbook keeps track of users. It's now done by ID, rather than email address. That means you can now change someone's email address and we'll track them as the same person and keep their documentation in order.
It also means we can handle archived users much better. You now have self-serve access to reporting for archived users.
These two changes set us up for some big improvements this summer. Custom notifications! Repeat signatures! Self-service to old versions of your handbook! We're also working on increased video support and a new editor to make customizing your handbook even easier.
Other Changes
Support for two new SSO options: Office 365 and Okta. If your company uses either of these services, you can enable them on your Integrations tab to make it easy for users to sign in to their Blissbook.
Searching your published handbook is better – you can now see what chapter or section text belongs to within the search results.
Using our variable content feature? You should now see tags for the sections or chapters for which it's enabled. You no longer need to open the access control modal to see what your settings are.
Is Blissbook down? Probably not… our uptime is over 99.9%. See for yourself on our new status page: http://status.blissbook.com
Lots of minor bug fixes and upgrades to the Blissbook technology.
We're looking forward to a fun summer here at Blissbook. Stay cool out there!