How to Create a Welcome Statement for an Employee Handbook
Welcome statements are the first thing employees read when they join an organization and review the employee handbook. Your welcome statement sets the tone for the work culture and makes a lasting impression on new hires. Plus, current employees may re-read it when they look to the employee handbook for answers to questions.
Creating an effective welcome statement is crucial for companies that want to build a positive and productive work environment.
In this article, we'll discuss what a welcome statement is, why it's important, and how to create one that sets the right tone for your organization. By the end of this article, you'll have a clear understanding of the guidelines for writing a welcome statement, examples of effective welcome statements, and a detailed process for crafting your own.
Let's dive in!
What is a Welcome Statement in an Employee Handbook?
Your welcome statement should be one of the first elements of your employee handbook.
By starting off with a warm intro, you're giving employees a taste of your company culture.
Generally, a welcome statement is produced from the perspective of someone on your leadership team, like the chief executive officer (CEO) or the head of human resources. In some situations, companies prefer to have a team provide the welcome statement.
Your welcome statement doesn't have to be a feat of literary genius. Instead, it should share some basic information, like why it's an excellent workplace and how the company came to be.
Welcome statements commonly take the form of written letters, often accompanied by a photo of the leader.
Digital handbooks can contain embedded video greetings, which can be especially beneficial for large organizations and those with employees spread across vast geography – which is more and more common even in small teams in this post-COVID world.
An effective welcome statement is conversational and friendly and eases new employees into your organization. It doesn't need to get into any specifics. Instead, it's a feel-good piece that makes new hires more confident about joining your team.
5 Guidelines for Creating Your Welcome Statement
1 – Start Your Handbook with the Welcome Statement
Your welcome statement should be one of the first things (if not the very first) after your employee handbook's cover page.
The welcome statement can go before or after the table of contents as long as it's the first proper introduction in the handbook.
It may be tempting to start with a disclaimer section, like "About this Handbook" or "Employment At-Will", but that screams, "You're entering a legal transaction between two adversarial parties" to employees, which you want to avoid if at all possible.
Instead, you want your employee handbook to feel more like, "You're joining a team on a mission with some rules for how we work together successfully."
It will help engage your employees and encourage them to continue reading.
2 – Use a Conversational Tone
When crafting a welcome statement, keep it casual.
Chances are many other portions of your employee handbook will convey the message that your company is professional, responsible, and all that extra stuff legal wants you to have.
With that in mind, make the most of this opportunity to be conversational and write as though you're penning a letter to a friend whom you trust.
If your welcome statement comes across as stuffy or arrogant, you'll start from a disadvantage.
Keep it lighthearted.
3 – Emphasize Your Company Culture
Most likely, your welcome statement will be followed by general information about your company's culture, such as your mission, vision, or core values.
That said, your welcome statement can serve as a soft introduction to some of that cultural information.
For example, if teamwork is one of your values, maybe the welcome statement emphasizes the importance of working together.
Your welcome statement is a great place to embrace the idea of "show, don't tell." How can you show your employees some of the things that your company stands for?
4 – Keep it Positive
Your welcome statement should be as positive as possible.
Other company policies and procedures will inevitably touch on prohibited conduct and different types of disciplinary action. Let the seriousness wait until then.
If employees are enjoying your welcome statement, then stumble upon a line reminding them that they can be terminated; you've probably done more harm than good.
Including consequences in your handbook is okay, but that should come later.
5 – Keep it Short and to the Point
There's a fine line between "friendly" and "we get it already." It's best to keep your welcome statement short and sweet, ideally about three paragraphs.
If it's too short, it's unlikely to create the feel-good vibes highlighted above. On the contrary, those positive messages can get lost if it's too long — or your employees will zone out.
Welcome new employees, begin building rapport, look toward the future, then quit while you're ahead.
3 Welcome Statement Examples for Inspiration
In addition to providing the guidelines listed above, we want to share examples of other companies' employee handbook welcome statements as a source of creative inspiration.
This section includes three examples of welcome statements in employee handbooks.
Welcome Statement Example 1 – Acme Incorporated
First, here's a welcome statement example from one of Blissbook's sample handbooks.
Welcome Statement Example 2 – Pronto Marketing
This example from Pronto Marketing takes an entirely different approach in its tone and length, but it successfully conveys a commitment to teamwork.
Plus, the company-specific terms create a feeling of being an insider.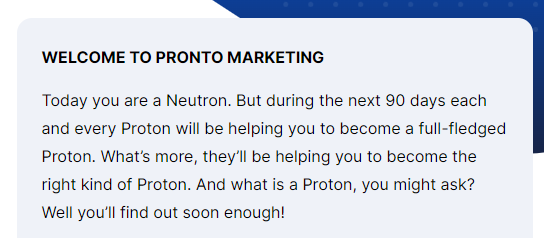 Welcome Statement Example 3 – The University of Florida
Another short and sweet example comes out of the University of Florida. It's conversational and optimistic.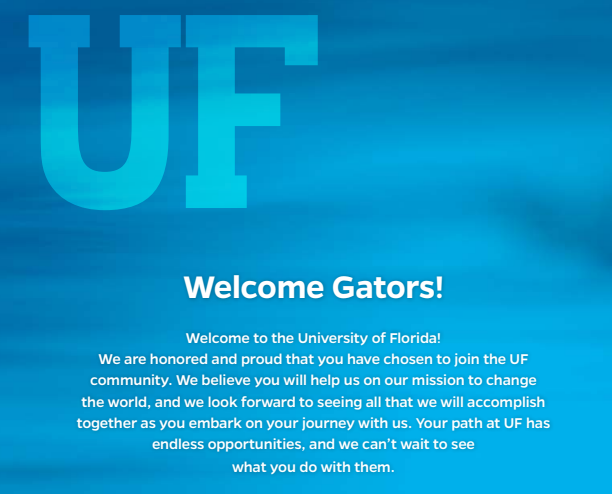 How to Create a Welcome Statement for Your Company Handbook
First things first, decide who you want the message to come from. Many welcome statements come from the CEO, but others come from the Chief People Officer or another person in leadership.
Some companies co-sign a written statement, and others use video capabilities to feature more than one person easily.
When determining the content of your message, it's helpful to review your company mission, vision, and values. These often summarize the what, why, and how of what you do.
It's a good idea for the welcome statement to answer some of these questions:
What makes you excited to come to work every day?
Why are your employees critical to what you do?
How do you expect employees to treat one another?
What do you hope to accomplish together?
How does your company contribute to the greater good?
Take note of specific phrases and speech patterns, and incorporate these into the welcome statement. You don't want it to sound like someone else wrote it. Instead, it should match that person's natural way of speaking.
Remember, this isn't the forum to discuss quarterly earnings, investor relations, and other business stuff. Instead, it's an opportunity to show some heart, compassion, and humanity.
Here's a welcome statement template you can personalize:
Welcome to [organization name]!
We're happy you're here! Together, we're on a mission to [insert vision or mission statement], and we're grateful to have you on the team.
We are committed to making [organization name] the best it can be, and we use our values [guiding principles, core beliefs, etc.] to guide the way. We thrive when we all hold ourselves accountable to these key values [principles, beliefs, etc.].
Starting a new job can be overwhelming, so we developed this handbook to help you familiarize yourself with our policies and procedures. We encourage you to read this fully and keep it handy as an ongoing reference.
Thank you, again, for joining the [organization name] team. We can't wait to see what we accomplish together!
Once you've created the content, it's time to plug it into your handbook. And remember, the earlier, the better.
Digital handbook tools like Blissbook help you easily add and edit welcome statements. It's super simple to include your welcome statement – just use the Letter template.

After selecting the Letter content type, you've got all the fields you need to import your letter: title, subtitle, the body of the welcome statement, a signature, and a photo of your messenger. And, if you look to the bottom, there's a place to embed a video.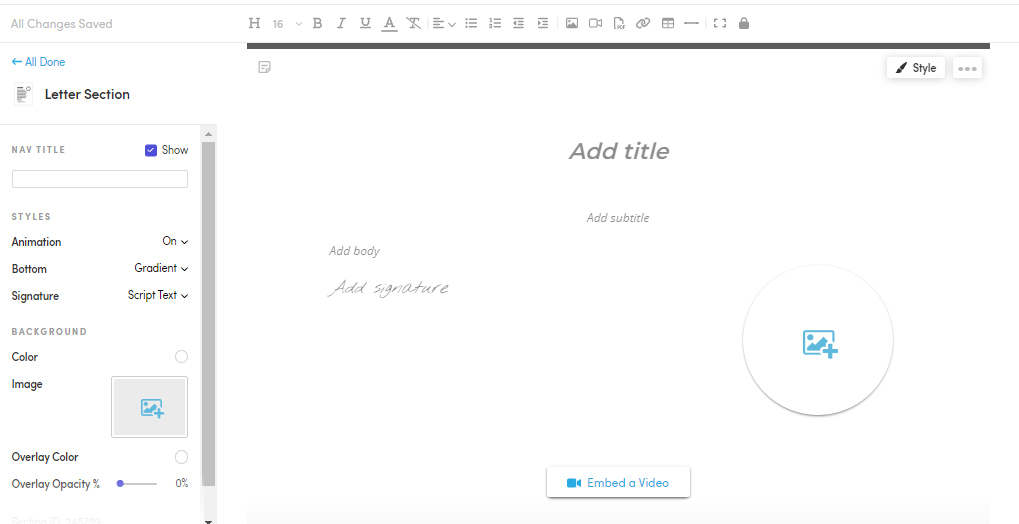 No matter how you present it, your welcome statement is crucial to your handbook. It can set a positive tone and make your employees want to be part of your team.
Here's an example of the finished Welcome Statement using Blissbook: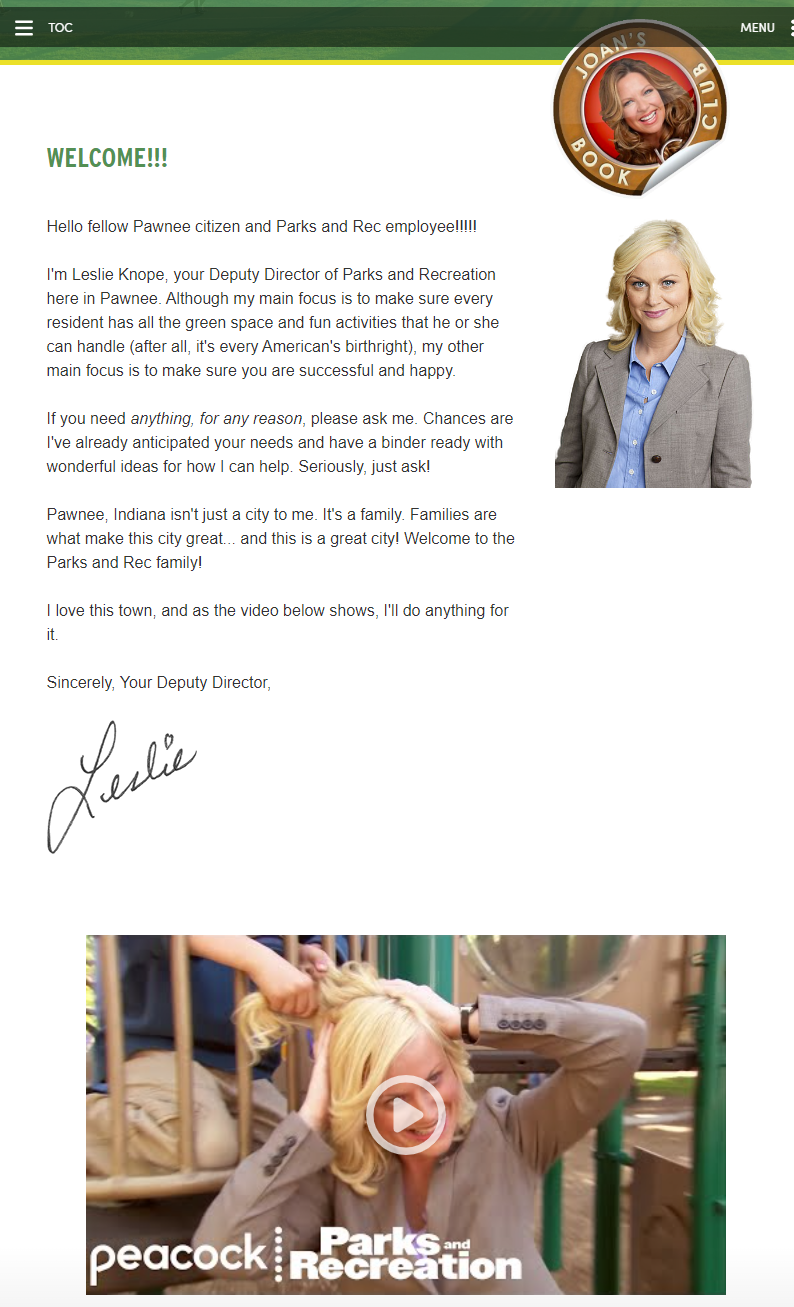 Final Thoughts
Your welcome statement will enable you to connect with employees immediately by making them feel like they're joining a company where they're more than just an employee number.
Everyone expects to read about the company's dos and don'ts, but an excellent introduction sets the right tone. It's best if employees walk away understanding that the policies and procedures are for the greater good, not just a list of how they can be fired.
At Blissbook, we believe employee handbooks can be effective internal marketing pieces that help build rapport from day one. That's why our platform has dedicated templates for letter creation — and even the ability to include a welcome video.
Better yet, we allow you to check out our product before you commit. Are you ready to get started? Sign up for your free trial.